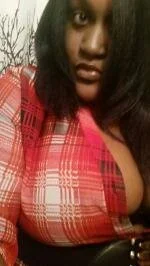 Hi slaves
I'm 5 foot 6 1/2 brown skin, beautiful bbw. I enjoy going on new adventures with my slaves. I'm 30 years old. I'm a connoisseur of many fetishes, edit self published books for a living, career woman, bookworm and absolute chocolate doll.

Please Do Not message me unless you intend to treat me as such. I'm sweet as can be, but I only want to be spoiled here. In other words, If this bothers you, or if you're a cheapskate, don't waste my time! I can also chew you up and spit you out for my personal entertainment when needed. I've been told I have a Goddess complex. Rightfully so!

I'm am all ways I'm control even when you think you have the upper hand. In my spare time, I enjoy reading, being a mom, collecting dresses, reading, or hanging out with family and friends, travel, museums,listening to music , my job, live music, Xbox 360 games, and particularly rough sessions where I focus not only on breaking your psyche. My main fetishes are sissification, financial domination, roleplay, ball busting, humiliation, money, ignoring, giving corporal punishment, black mail, teasing alphas and pet play.

I thoroughly enjoy bending the will of a weak man with my sweet demeanor, hypnotic eyes, adorable toes and sexy lips. Don't get too comfortable when I'm being super sweet to you. After all, I'm speaking to you for MY amusement and will quickly put you in your place, mister. I do travel at your expense.

So, want to get to know me? Send me a message!

Interested in being one of my little secrets? Ask for an application! Be prepared to cough up a tribute, though.

Want to buy me something lovely?

I like to be expensive gifts. I particularly enjoy gift cards. I'm also a huge fan of sexy out fits that will leave you gasping for air, and Amazon! DON'T BE SHY.


592 Views